Visual Merchandising & Display

Sample of Meadowood Display Ideas
Meadowood Industries, Inc. provides Visual Merchandising items. Display Fixtures, Props, Backdrops, Screens or Room Dividers produced from MeadowBoard™ that are light weight and durable. The great strength to weight advantages of MeadowBoard™ allow construction of nested sets for risers that are versatile on the floor, convenient to store, and compact for shipping. The Meadowood Design nested sets of risers and pedestals are lighter than wood, less expensive than injection molded plastic, and far stronger than cardboard.
As with decorative paneling, Meadowood Visual Merchandising products have the advantage of being a non-veneer, attractive natural surface. The natural texture and resilient of these material do not show pin holes or tack marks. The favorable strength to weight ratio and Class III fire rating offers special benefits to customers who require portability and flexibility of placement in display settings.

Meadowood risers with a backdrop screen

Meadowood risers and planter displays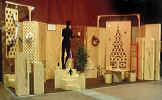 Exhibit at New York Visual Merchandising show.
Please use the Information request form to receive a catalog of Visual Merchandising or Display items.

Information Request Form